Vita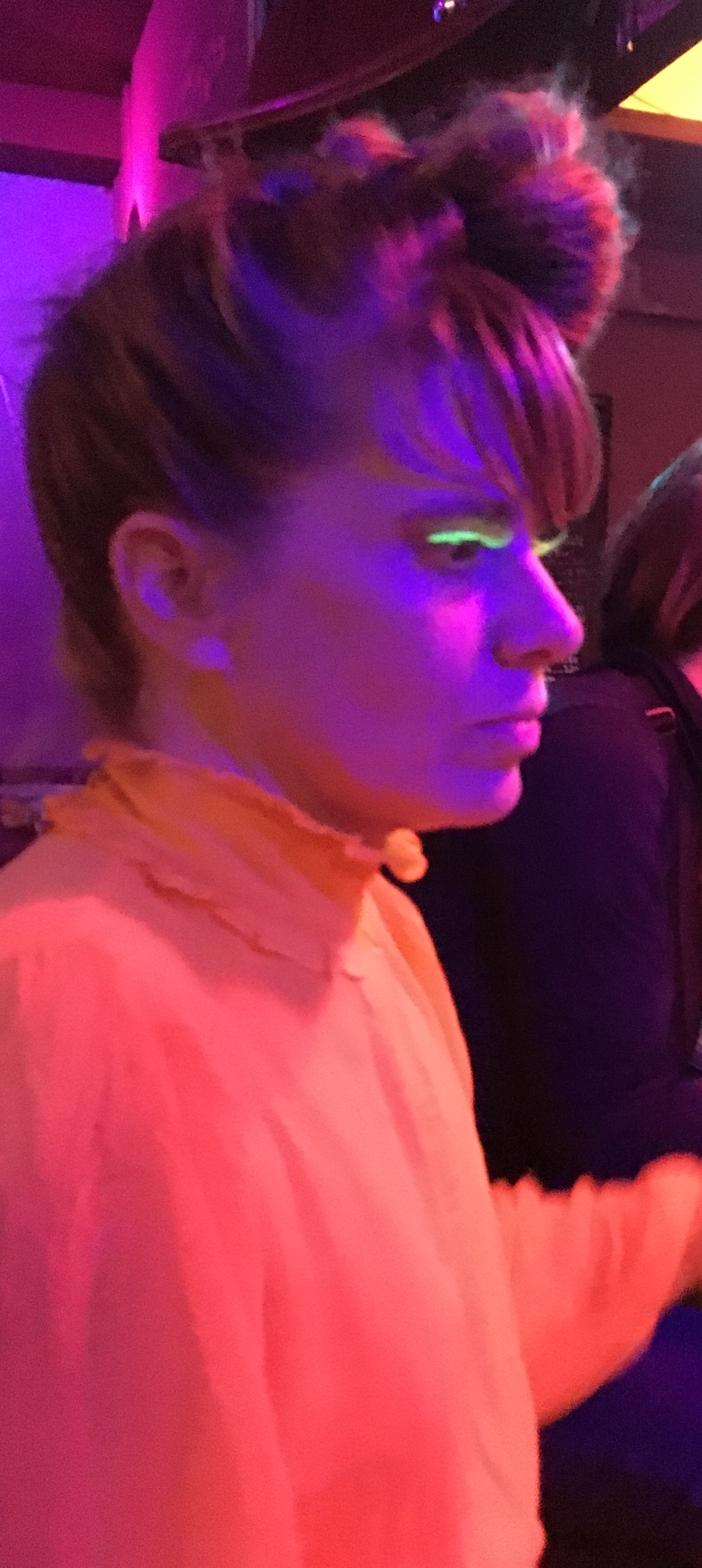 Tine Becker
studied stage design at Hochschule für Bildende Künste in Hamburg in the class of Raimund Bauer, graduating with honours.
In her early career, Tine worked frequently in collaboration with Münchner Kammerspiele.
Since 2003 independent stage and costume designer.
Since 2012 work as a stylist.
Since 2020 work with painting and drawing.
2021 set design and costume design for a feature length movie.
contact: tine@tinebecker.com
Works
2023
|| sans titre ||
Opera
Director: Wolfgang Nägele
Stagedesign & Costumedesign: Tine Becker

Philharmonie Luxemburg


|| Fucking for forest ||
Director: Mirja Biel
Costumedesign: Tine Becker

2022
|| Triumph der Waldrebe ||
Schauspiel Uraufführung
Director: Nick Hartnagel
Costumedesign: Tine Becker
15.Oktober 2022

Staatstheater Stuttgart


||Pinguine können keinen Käsekuchen backen||

Director: Oda Zuschneid

Stagedesign: Tine Becker

25.September 2022

Schauspiel Regensburg


|| DER HERZLOSE RIESE ||
Opera
Director: Wolfgang Nägele
PREMIERE 12.3.2022
Stagedesign & Costumedesign: Tine Becker
März 2022

Philharmonie Luxemburg
2021
|| the sinking of the titanic||

PREMIERE 15.10.2021

https://www.schauspiel-stuttgart.de/spielplan/monatsplan/der-untergang-der-titanic/4147/
Director: Nick Hartnagel
Stagedesign&Costumedesign: Tine Becker

Staatstheater Stuttgart


||Leutnant GUSTL||

invited and nominated:
!!!!! INTERNATIONALE FILMTAGE HOF 2021 !!!!
-Director: Nick Hartnagel

Music: Lukas Lonski

Setdesign&Costumedesign&Make-up: Tine Becker


||kein Eisberg in Sicht||

Cooperation Schauspiel Stuttgart & Staatliche Hochschule für Musik und Darstellende Kunst

a short movie

Director: Nick Hartnagel

Music: Lukas Lonski

Setdesign&Costumedesign&Make-up: Tine Becker


||Der Sandmann||

Director: Alexander Nerlich

Costumedesign: Tine Becker

Choreografie: Cecilia Wretemark

Schauspiel Ingolstadt

2020
|| the sinking of the titanic ||
PREMIERE 27.03.2021 postponed
2019
|| Mass for Mass||
Director: Nick Hartnagel
Stage&Costumedesign: Tine Becker
LTT

2018
|| Mein KAMPF ||

Director: Nick Hartnagel

Stage&Costumedesign: Tine Becker

Schauspiel Heidelberg


|| Universe ||

Director: Marc Prätsch

Stage: Philipp Nicolai

Costumedesign: Tine Becker

Schauspiel Frankfurt


|| Kinder der Sonne ||

Director: Nick Hartnagel

Stage&Costumedesign: Tine Becker

Music: Lukas Lonski

LTM

2017
|| One night in Lisbon ||

Director: Lars Ole Walburg

Stage&Costumedesign: Tine Becker

Schauspiel Hannover


|| Das goldene Vlies ||

Director: Alexander Nerlich

Stagedesign: Tine Becker

Costumedesign: Matthias Koch

Hans Otto Theater Potsdam
//nominated for best stage design of the year//


|| Death for a penny ||

Director: Nick Hartnagel

Stagedesign&Costumedesign: Tine Becker

Ruhrfestspiele Recklinghausen

Schauspiel Hannover


|| HOOL ||

Director: Nuran David Calis

Stagedesign: Anne Ehrlich

Costumedesign: Tine Becker

Schauspiel Köln

2016
|| sit around ||
Director: Mirja Biel
-Stagedesign&Costumedesign: Tine Becker
Schauspiel Leipzig

2015
|| Die Verwirrungen des Zögling Törless ||

Director: Claudia Bauer

Stagedesign&Costumedesign: Tine Becker

Staatstheater Hannover


|| what you will||

Director: Jorinde Dröse

Stagedesign: Susanne Schuboth

Costumedesign: Tine Becker

Schauspiel Frankfurt


|| Fleischwerk ||

Director: Markus Heinzelmann

Stagedesign: Gregor Wickert

Costumedesign: Tine Becker

Staatstheater Nürnberg


|| Perplex ||

Director: Lars Ole Walburg

Stagedesign: Andreas Strasser

Costumedesign: Tine Becker

Staatstheater Hannover

2014
|| tea in the harem of archimedes||

Director: Nuran David Calis

Stagedesign: Irina Schicketanz

Costumedesign: Tine Becker

Puppet design: Tine Becker

DT-Berlin


|| simplicissimus ||

Director: Simon Solberg

Stagedesign: Maike Storf

Costumedesign: Tine Becker

Staatstheater Dresden


|| Out of love ||

Director: Markus Heinzelmann

Stagedesign: Gregor Wickert

Costumedesign: Tine Becker

Staatstheater Nürnberg

2013
styling and set design
for some clips and shootings
production/ agency:
Sterntag, mypony, LIGANORD
Hamburg

2012
Styling and Set design

Fotoshootings

production

Leonardo


|| Die Jungfrau von Orleans ||

Director: Marc Prätsch

Stagedesign: Philipp Nicolai

Costumedesign: Tine Becker

Staatsschauspiel Dresden


styling and set design

production

Miles Fashion GmbH Hamburg

2011
|| fragile! ||

Director: Andre Rössler

Stagedesign&Costumedesign: Tine Becker

Kammertheater

Staatstheater Stuttgart


|| Küste ||

Director: Andre Rössler

Stagedesign: Tine Becker

Kleines Haus

Staatstheater Mainz


|| Jubiläumsgala ||

Director: Markus Heinzelmann

Stagedesign&Costumedesign: Tine Becker

Theaterhaus Jena

2010
|| Wüste ||

Director: Andre Rössler

Stagedesign: Tine Becker

Großes Haus

Staatstheater Mainz


|| Brüder Löwenherz ||

Director: Sandra Strunz

Stagedesign&Costumedesign: Tine Becker

Großes Haus

Schauspiel Freiburg

2009
|| Frühlingserwachen ||
Director: Andre Rössler
Set design: Tine Becker
Großes Haus
Staatsthteater Mainz

2008
|| Parzival ||
Director: Andre Rössler
Set design: Tine Becker
Großes Haus
Staatstheater Stuttgart

2007
|| City- der unwahrscheinlichste aller Orte ||
Director: Andre Rössler
Stagedesign&Costumedesign Tine Becker
Staatstheater Hannover

2006
|| Mama Medea ||

Director: Andre Rössler

Stagedesign&Costumedesign: Tine Becker

DT-Berlin


|| the tempest ||

Director: Claudia Bauer

Stagedesign&Costumedesign: Tine Becker

Staatstheater Stuttgart


|| OUTBUY! ||

production with ten international directors

Director: Alice Buddeberg, Andre Rössler, Dorothee Aumayr, Herbord&Mohren, Sebastian Martin, topolog, Elisabeth Rech, Julia Seedler, Susanne Winterling, Julie Pfleiderer

Set design: Tine Becker

Staatstheater Stuttgart

Director Hasko Weber

Großes Haus, Foyer, diverse Spielstätten

2005|04
|| A Midsummer Night's Dream ||
|| Electronic City ||
|| Paradies ||
|| Time in the Dark ||
Director: Ragna Kirck
Stagedesign&Costumedesign: Tine Becker
Schauspiel Kiel

2003|02
assitance with setd esign at the Münchner Kammerspiele
Works with Katrin Brack and Gesine Völlm and Barbara Ehnes
Director Frank Baumbauer

2002
|| ankerplatz der freude ||
a split screen play in the middle of St. Pauli
Diploma with Honours
Stage Design Class of Raimund Bauer
Hochschule für bildende Künste Hamburg

2001
set design for the movies of Ulrich Köhler during time at university
Director: Ulrich Köhler
IMPRINT
Response for the homepage
Tine Becker
Max-Brauer-Allee 188
22765 Hamburg
email: tine@tinebecker.com